Russian Week of High Technologies 2018: participant feedback
28 / 04 / 2018
Oleg Dukhovnitsky, Head of Federal Communications Agency (Rossvyaz):
- The Sviaz exhibition celebrates its 30th birthday. It's a great anniversary. The Russian Ministry of Telecom and Mass Communications and the Federal Communications Agency have participated in this event for years. It's a really big industry platform that brings together manufacturers and customers and the place where common people come to get acquainted with state-of-the-art technology solutions, exchange opinions, and learn something new.
Sviaz and the Russian Week of High Technologies allow bringing together all representatives of the industry from across our huge country, inviting foreign guests, and providing insight into the trends by which the information and telecom industry operates.
Expocentre is a very welcoming platform. It is here Russian companies showcase their products and Rossvyaz holds wrap-up sessions. We've developed the links. The results which we expect are reached to its full extent. I think the Sviaz exhibition and the Russian Week of High Technologies is the best platform in Russia and even Europe for manufacturers and developers of software, telecom equipment, and other solutions which are directly connected with the development of digital economy. This trade show has a very good present and a very promising future.
---
Vladimir Kononov, member of the Russian State Duma Committee on Education and Science, Chairman of the organizing committee of the Russian Week of High Technologies:
- Today, the communications industry is overgrowing with new branches of study and production provided by modern technologies. The Russian Week of High Technologies features two trade shows – Sviaz and Navitech – and three forums. In our opinion, the Week will be attended by 15,000 industry experts that is 30% more than last year. Here are no occasional visitors. Network takes place only between manufacturers and customers. Nothing can change face-to-face communication which results into new sales leads.
Sviaz is the heritage of the whole country. The trade show has given a lot of breakthrough ideas, new technologies, and new products not only in the telecom industry but also in related industries which influence the life in Russia today and in the future.
---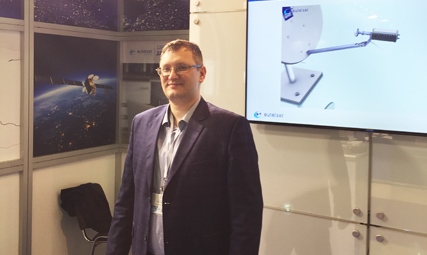 Alexey Velichko, Sales Manager, Eutelsat Networks:
- Our company is the satellite Internet provider. The Eutelsat 36Ñ satellite is designed for the Russian market of private and corporate clients. We've received an award as the best 2017 provider which showed the largest figures in customer acquisition. The trade show runs successfully. We've generated lots of business leads and built up relationships with new partners and customers.
The geography of the visitors to our stand at this trade show is broader than the geography of the services which we offer to potential customers. Our broadcasting zone covers western Russia from the Leningrad region to West Siberia. If to speak about corporate customers, they are representatives of the oil and gas industry and other extractive sectors, and we've had business meetings with them. We also meet representatives of different engineers of major companies. The fact that Sviaz runs as part of the Russian Week of High Technologies increases our opportunities to meet new potential customers.
---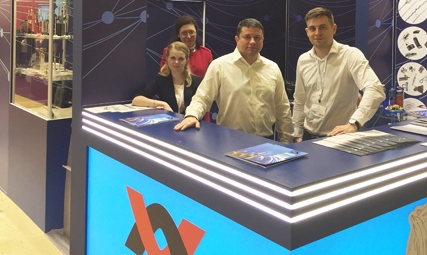 Inessa Gogiya, Lead Specialist, Moskabel-Fujikura AO:
- The trade show is very buzzy. Visitor attendance and their flow have increased compared to the previous year. We've had meetings with our customers such as telecom operators, builders of fiber optic lines, and the companies engaged in development of communications lines. All of them are presented here. Many of them are our long-standing partners. Of course, potential customers also attend the trade show. Sviaz is the industry-specific trade show and we try not to miss it.
---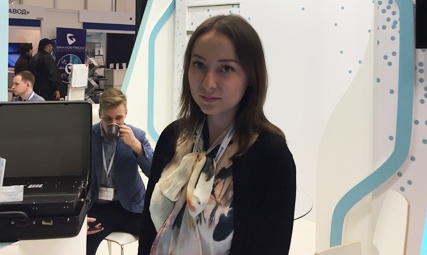 Alyona Timofeyeva, Lead Specialist, Ruselectronics AO:
- Our company is a part of the radio electronic cluster of the Rostec state corporation. Rostec unites more than 150 companies which produce radio and telecommunications. Sviaz is an excellent platform to promote our civilian products.
We've taken part in the trade show for several years running. We try to book a convenient exhibition space in advance. The platform is effective; there are a lot of professional visitors who are really interested in our products. The trade show is convenient for negotiations. We thoroughly prepare for the event: we invite our current and potential partners with whom we hold negotiations. Thanks to the format of the Week, we are attended by the visitors to the International Navigation Forum. The holding companies take part in supporting events as well.
---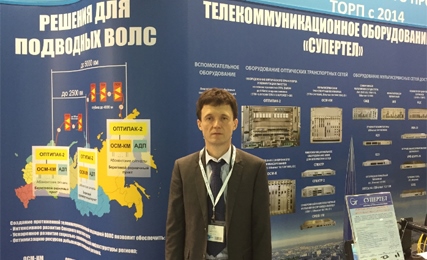 Roman Vasilyev, Head of Trade Connections Department, Supertel OAO:
- Our company was founded in 1993. This year we are 25. We produce a broad range of telecom equipment and it is one of leading Russian manufacturers. We've participated in the Sviaz exhibition since its establishment. We started to take part in Sviaz when we were still a Soviet organization. I am glad that suppliers' products are presented in different sectors. I can see the clusters of equipment, cables, software, etc. It gives us an opportunity to easily navigate the trade show and present it in a structured fashion. The number of the customers has increased. I wish this trend to continue in the future.
---
---