Giant UPS fom Voltronic Power Technology Corporation
10 / 04 / 2015
Voltronic Power Technology Corporation – Founded in 2008, is a professional OEM/ODM manufacturer by developing both innovative original products and customized products to be branded by our customers.
As a professional OEM/ODM manufacturer in power market, Voltronic Power is proud of its solid and professional teams in sales, marketing, R&D, and manufacturing with over 20-year experience; providing innovative & eco-friendly products, solutions and value-added services.
In December 2014 Voltronic Power has released an isolated 3-phase online UPS, Giant UPS from 30KVA to 80KVA. Embedded with isolation transformer, it will eliminate common mode noise and the need to install expensive dedicated circuits. Giant series provide reliable galvanically isolated power to critical equipment.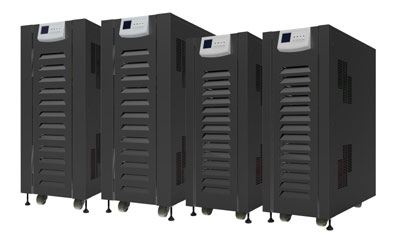 Giant integrates true double conversion design, DSP technology, and isolation transformer design to easily adapt to all kinds of diverse and complicated loads, such as strongly inductive or capacitive loads, industrial machinery and induction motors. Besides, it's applied intelligent battery management to prolong battery lifecycle. Independent ventilation and redundant fan design allow Giant UPS to operate under harsh environment for long time. Up to 4 units is parallel can be operated without additional hardware, to accommodate increases in power demand as well as to attain power redundancy with high system integrity.
Feature Summary:

True double-conversion
DSP technology guarantees high performance
Output power factor 0.8
True galvanic isolation transformer design
Control designed to withstand all kinds of loads
Intelligent battery management
Independent ventilation and redundant fan design enhance durable operation
Parallel operation with up to 4 units (option)
Variety of communication options available
The device will be demonstrated for the first time outside Taiwan during the Sviaz-Expocomm 2015 exhibition on May 12-15th, 2015 at Expocentre Fairgrounds in Moscow.
Please contact our sales representatives to find out more detailed about Giant 3P/3P series during exhibition opening hours at the booth # 81С42 in Pavilion No. 8 of Expocentre Fairgrounds.
---