RAEC announced cybersecurity competition within Sviaz 2016 and Media Communication Forum
26 / 02 / 2016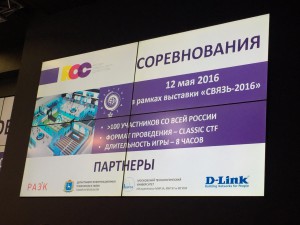 The Russian Association for Electronic Communications (RAEC) and its Commission on Education and Staff have announced a new area of activity related to holding and supervising various IT competitions in Russia whose aim is to develop cybersecurity skills of students.

Aleksey Grishin, who has a six year experience in managing cybersecurity competitions, was appointed head of the new area.
The Cyber Security Forum will include the first event held as part of the 28th edition of Sviaz International Exhibition for Information and Communications Technology and the Media Communication Forum.
The competition will be under international rules. About a hundred of students from all over Russia are expected to take part in it.
The Russian Cybersecurity Competition (RCC-2016) will be held on 12 May 2016 in one of the most popular competition formats Capture the flag (CTF). Capture the flag (CTF) is an educational competition whose goal is to test security skills of its participants.
In 2016 RAEC together with the IT and Communications Department of the Samara Oblast have come to a decision to hold the first Russian Cybersecurity Competition in Moscow joining their knowledge and experience in supporting cybersecurity education.

Sergey Plugotarenko
RAEC Director
"There is no doubt that competitions whose goal is to develop skills of IT students correspond to activities of the Cybercrime and Education Committees."
The IT and Communications Department of the Samara Oblast has been organizing the VolgaCTF interuniversity open cybersecurity competition for six years. Over this time the competition has become international and now draws young participants from all over the world. The preliminary round 2015 had 600 teams.

Stanislav Kazarin
Head of the IT and Communications Department
"Last year VolgaCTF was first held as an international and not interregional event. The program included various hacker quests, robotic competitions and a series of lectures with cybersecurity experts from Russia and Belgium participating. Every year these competitions become bigger. More and more specialists take interest in CTF and cybersecurity. It is great chance for students to test their knowledge and skills, and for companies to find highly skilled staff."

Information for mass media:
contact Aleksey Grishin, Head of the Russian Cybersecurity Competition, +7 (999) 835-12-20, grishin@raec.ru

More about CTF
Capture the flag (CTF) is a team information security contest whose goal is to test security skills of participants.
Teams have hosts with identical vulnerable services. The goal is to patch and protect the services (keep the flag) and compromise other team's services (capture the flag). Teams are scored on both their success in defending their host and attacking the opponent.
CTF games touch on many aspects of information security such as cryptography, network sniffing, programming, stego, reverse engineering, system administration, etc.
Source: RAEC press materials
---