Expocentre Fairgrounds hosted a press breakfast on the Sviaz 2016 Exhibition
23 / 03 / 2016
Expocentre held a press breakfast devoted to telecommunications services, software and preparations for the 28th edition of the Sviaz International Exhibition for Information and Communications Technology.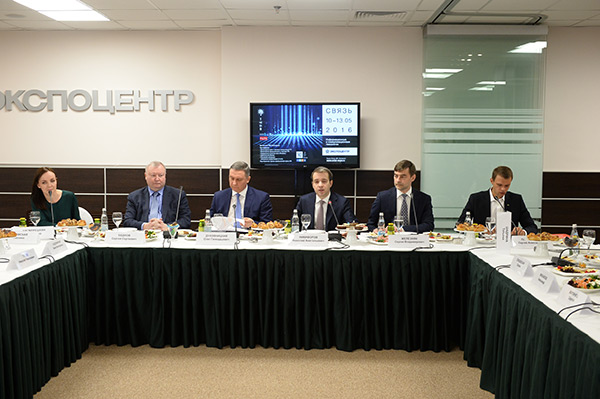 Its participants included Russian Minister of Telecom and Mass Communications Nikolay Nikiforov, Deputy Chairman of the Russian State Duma, Chairman of the Sviaz 2016 Organizing Committee Sergey Zheleznyak, Head of the Federal Communications Agency, Member of the Sviaz 2016 Organizing Committee Oleg Dukhovnitsky,Director of RAEC Russian Association of Electronic Communications Sergey Plugotarenko, and General Director of Expocentre ZAO Sergey Bednov.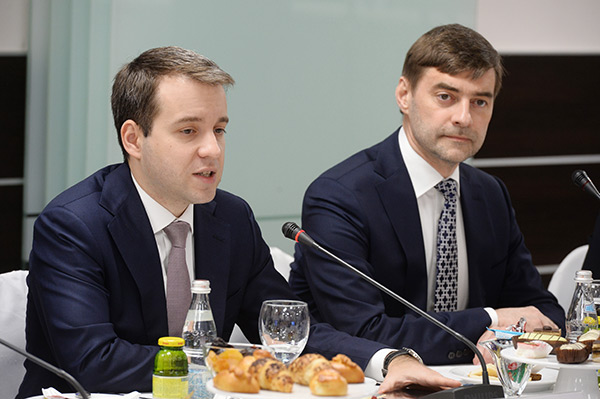 All of them stressed that Sviaz 2016 was the most important event for the Êãûûøôò telecommunications industry. It will have great practical importance for development and implementation of IT technologies in the economy and all spheres of life.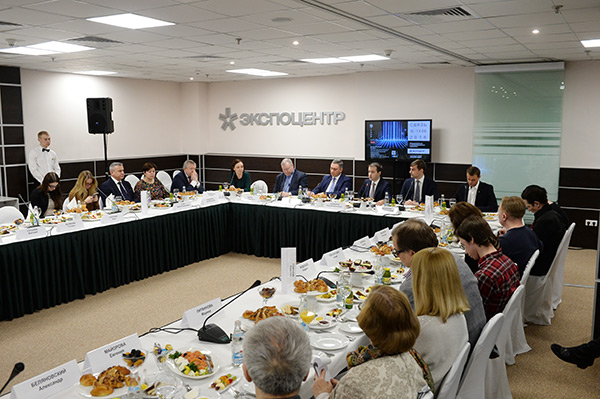 Sviaz 2016 will run on May 10-13, 2016 to showcase the latest equipment for telecommunications, IT, management systems, and mass communications. The event will welcome more than 300 companies from Belarus, China, Cyprus, Germany, Italy, Japan, the Netherlands, the USA, and other countries. Russia will be represented by more than 200 exhibitors.
Nikolay Nikiforov is positive that Sviaz 2016 will emphasize structural and technological aspects of the industry. "No doubt it will be interesting to technicians and engineers of different service providers. Today there are already tens of thousands of them. This industry is rich in human resources. I am sure that Sviaz will be a great networking platform for them," said the minister.
"Sviaz is one of the most important infrastructure-related trade shows in Russia. Telecommunications and information technology is a basis for the smart economy and smart state. As a chairman of the organizing committee I am glad to say that today, despite the difficult economic environment, we have more than 500 applications for participation. More than 300 companies have already confirmed their participation," said Sergey Zheleznyak.
Oleg Dukhovnitsky confirmed that Sviaz had been growing and attracting new exhibitors. Enterprises which are members of Rosvyaz are regular participants because they understand the importance, necessity and positive effect from participation.
According to Sergey Bednov, Sviaz 2016 will have a new salon SOFT to showcase Russian software developers. "This sector is going to be huge in the near future as Russian developers will make software for domestic enterprises and public institutions," said Mr. Bednov.
General Director of Expocentre also talked about the rich program of associated events. It main event is the Big Media-Communication Forum, organized jointly by Expocentre ZAO and the RAEC Russian Association of Electronic Communications.
RAEC Director Sergey Plugotarenko believes that the co-location of the industry's largest trade show and the forum is a perfect platform for a dialogue between the telecommunications industry and the government.
It was also announced that this year Sviaz would be the central event of the Russian Week of High Technologies. Besides Sviaz, the Week will bring together to Expocentre Fairgrounds the Navitech 2016 International Exhibition for Navigation Systems, Technologies and Services, the 10th International Navigation Forum, and the STL. Systems for Transport & Logistics 2016 International Exhibition for Transportation Technologies, Logistics Solutions, Services and Storage Systems.
Participants in the press breakfast took multiple questions from mass media.
To learn more about Sviaz, go to sviaz-expo.ru
Press office, Expocentre ZAO
---