Sviaz 2016: Russia's telecom market attracts Chinese companies
11 / 05 / 2016
97 Chinese companies take part in the International Exhibition for Information and Communications Technology Sviaz 2016 that runs from May 10 through 13 at Expocentre Fairgrounds.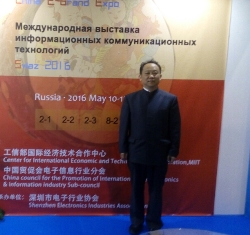 The Chinese national pavilion occupies over 1,400 sq m. The information was provided by Gong Xiaofeng, Chairman of Electronics & Information Industry Sub-Council of the China Council for Promotion of International Trade (CCPIT ECC), Director of the Center for International Economic and Technological Cooperation of the Ministry of Industry and Information Technology of the People's Republic of China.
According to him, all Chinese companies brought new products to Sviaz 2016. The trade show generates a great interest and attracts leading Chinese companies such as Fiberhome Technologies, Beijing Dynamic Power, China International Telecommunication Construction Corporation, and others. Some of them have operated on the Russian market for many years. The trade show strengthened relations between Chinese and Russian companies. Russia is a large country and such sector as e.g., telecommunications, is very promising for the Russian-Chinese cooperation.
Gong Xiaofeng thinks that another perspective sector for Chinese companies on the Russian market is development of the 5th generation mobile networks - 5G. "Chinese companies look for ways to increase data transmission rate for online consumers. They arrive at their own solutions and achieve good results. That's why Chinese companies can enter the Russian market with their products and technology".
"In China there is a great consumer demand for mobile Internet which changes everyday life of Chinese people. I think that demands of Russian consumers are the same. We hope that in the future the number of Chinese participants in the Sviaz exhibition will only grow. The present show will make Sviaz known in China and give confidence to investors. We expect the investment climate in Russia will be congenial and the market will be promising", summed up Chinese representative.
CCPIT ECC was Expocentre's exclusive partner which arranged Chinese pavilion at Sviaz 2016. The bilateral agreement was signed last October in Beijing.
Press Service
Expocentre AO
---