Extended meeting of the Federal Communications Agency held at Sviaz 2016
12 / 05 / 2016
The Sviaz 2016 international exhibition traditionally hosted an extended meeting of the Federal Communications Agency following the results of 2015.
The meeting was chaired by the Head of Rossvyaz Oleg Dukhovnitsky. The meeting participants were Minister of Telecom and Mass Communications Nikolay Nikiforov, Deputy Chairman of the Russian State Duma Sergey Zheleznyak, Chief of the Presidential Directorate for Application of Information Technology and the Development of E-Democracy Andrei Lipov, Director of the Government Department of Information Technologies and Communications Vladislav Fedulov, Head of the Federal Service for Supervision in Education and Science Sergei Kravtsov, Vice President of the Russian Union of Industrialists and Entrepreneurs Sergei Mytenkov and other representatives of authorities.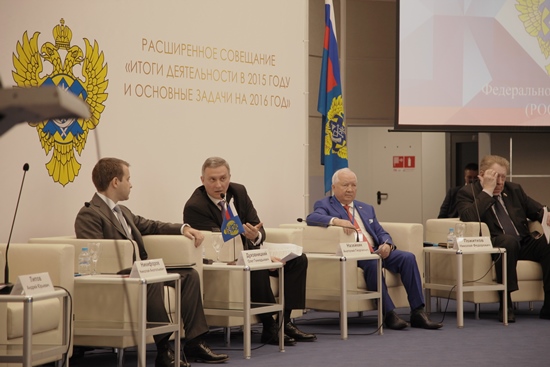 Deputy Prime Minister of Russia Arkady Dvorkovich emphasized the Rossvyaz significant contribution to implementation of state policies in the field of communications in his speech to the participants in the extended meeting.
Minister of Telecom and Mass Communications Nikolay Nikiforov highly appreciated activities of the Federal Communications Agency. "The Agency is engaged in numerous projects. In terms of current restrictions on budget financing, we have to solve, the tasks set by the government," said the minister.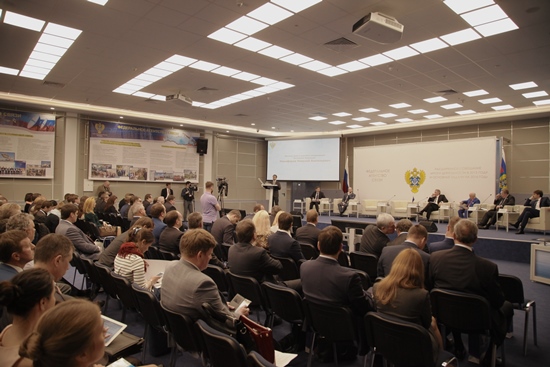 A large video presentation was devoted to the results of the Federal Communications Agency and its subordinate organizations in 2015. Head of the Federal Communication Agency Oleg Dukhovnitsky told about the Agency main directions in 2016. Among other things it was said that the first Internet access points were opened as part of the federal project "Elimination of Digital Divide". They cover 66 subjects of the Russian Federation. The total number of payphones installed throughout Russia is 148,863, public Internet access points - 20,978 and Internet access points - 1,675. An important feature of the expansion of access points is the use of fiber-optic communication lines (FOCL). To achieve the goals, it is planned to lay FOCL of total length of 215,000 km. The lines will be laid on the territory with population of around 37 million people.
"Rossvyaz keeps up with the times", says Oleg Dukhovnitsky. He drew the audience's attention to such important areas of activity of the Agency as financial support of universal communication services, development of the satellite constellation within the promising federal target program, improvement of legislation regulating activities of the industry enterprises and development of professional education and many other issues.
The extended meeting featured a panel on the development of next generation networks.
Press Service

Expocentre AO
---