A ship-cable provider CABLE INNOVATOR will pave the FOCL on the bottom of the Sea of Okhotsk
30 / 05 / 2016
On 29 May 2016 specialized vessel CABLE INNOVATOR arrived to the port of Vladivostok.

Soon, on completing the necessary documents, the ship will go to the Kamchatka Peninsula to lay underwater fiber-optic communication line (UFOCL) on the bottom of the Sea of Okhotsk.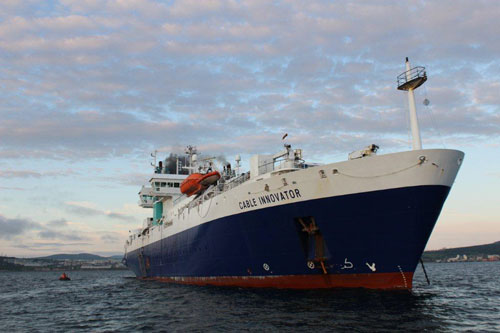 The underwater highway, which is built by Rostelecom, will connect Ust-Bolsheretsk (Kamchatka Region) and Okha (Sakhalin Region). In early June work will begin on laying the deep-sea cable from Kamchatka to Sakhalin.

The total length of the line will be around 900 km, the maximum throughput of the system is 400 Gb/sec in each direction (expandable up to 8 Tbit/sec). Rostelecom's partner in building the underwater line is Huawei.

"Kamchatka is prepared for UFOCL arrival: preparation works of the coastal infrastructure and coastal territory are completed. A basic technological equipment of data transmission systems has been assembled.

We plan to complete underwater line of the fiber optic cable Kamchatka – Sakhalin in autumn 2016", said Alexey Sapunov, Director of Rostelecom's Far East Macroregional Division.

With arrival of the main "optics" the company will continue actively developing the intra-zonal fiber-optic network. The fiber-optic lines connecting Petropavlovsk-Kamchatsky, Yelizovo, Vilyuchinsk, Milkovo and Ust-Bolsheretsk have already been built.
The launch of the Kamchatka – Sakhalin line is scheduled on the first quarter of 2017.


Source: http://ru.pcmag.com/
---