German equipment at the exhibition "SVIAZ.ICT-2017"!
14 / 12 / 2016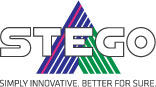 It will be STEGO's first time representation of the German equipment on the exhibition "SVIAZ-2017" within the Data Centers salon.
For 30 years STEGO has been developing and manufacturing a wide range of temperature and humidity control systems making sure that electrical and electronic parts are protected from humidity, heat or cold. In the course of over 30 years, their products "Made in Germany" are appreciated for their reliability and longevity by customers worldwide.

The products of the company STEGO are exported worldwide and can be used in all climate conditions and in many different application areas.
---